11.14.2020 – Coaches Meeting Summary
Completed online rosters are due as soon as possible after emailed to coaches

.

 

It is VERY IMPORTANT that I email parents with our COVID SAFETY PROCEDURES before they attend their first game.

 

I will be changing the names of several teams on the Monday, Tuesday and Wednesday Schedule.

 

There will probably be a 5 minute start change for the first few games to insure teams exit the arena before the players for the next game enter. All weeknight leagues were sent individual online player rosters today.

  

I will get to the weekend leagues (Sat & Sun) over the next few days.

 

As previously mentioned, player's parent must complete and sign a liability waiver. This has already been emailed.

 

I also have extras at the concession stand.

 

If the player is 18 or older, the player may complete the form.

  

Please collect all forms, staple and submit as one group to the concession stand.

 

We appreciate parent's not submitting forms individually. http://marylandsportsarena.com/waiver.pdf

 

for additional waivers.

You may add players up to the beginning of your 6th game by going online an adding them to your roster.

 

You must also submit a liability waiver to the concession if you add any players.

  

Players may only play on 1 team per league.

 

They may play in multiple leagues.
For ages U11/ U12, U13 & U14, once the goalkeeper has possession, he or she may only distribute the ball by throwing.

 

Ball may not be placed on the ground, drop kicked or punted.

 

Keeper may place ball and use feet to distribute by passing for U15 and older youth, all coed and adult leagues.

 

Punting or drop kicking is only allowed in u8 (boys and girls), u9 (boys and girls) and u10 (boys and girls).
For Coed leagues, 2 female players (excluding goalkeeper) must be on the field at all times.

 

Female player must first touch the ball in your offensive half for your team to be able to score.
All youth players, including HS Coed, must have shin guards.

 

No cleats are allowed.

 

Indoor soccer shoes or sneakers.

 

Turf shoes are allowed, however in my opinion, they give you no added benefit.

 

There's a lot of debate regarding heading for younger players.

 

It is your responsibility as a coach (for younger teams) to instruct your players whether or not to head the ball.

 

We do not call it a foul if the ball touches your players head.

 

The majority of injuries I have scene from head balls (including myself) have been in older age play.

 

Obviously, there are exceptions.

 

Bottom line, you instruct your players based on your soccer knowledge.
Schedules may be found online at http://marylandsportsarena.com/schedules.htm . I will send an email to coaches when additional schedule groups are online.

 

Once the schedules are online, they cannot be changed, unless I've missed a request.

 

All weeknight requests have been received.

 

If you have a weekend bye request, please let me know immediately.

 

I cannot do time requests.
If your score is wrong, coaches please email. Do not leave notes with the ref or concession stand.

  

I will update the scores weekly or sooner if possible.

 

I usually update every Monday or Tuesday once all schedules are online.
Sportsmanship is a very important part of your player's or child's learning process.

 

We encourage you to coach your child in a positive manner.

 

Please do not shout disparaging remarks at other player's or coaches.

  

Never tell your players to foul an opponent.

 

If your game becomes physical, or you have a player out of control, it is your responsibility as a coach to correct your player.
Dissent is not tolerated toward the officials.

 

This includes spectators.

 

Coach your team but do not berate the official because you disagree with a call.

 

When you do that, you not only take yourself out of the game but set a poor example for your players. Teams are responsible for the conduct of their fans.

 

If you have a problem with an official or his call, please email me with a concise report regarding the incident (coaches only).

 

I don't discuss calls by phone or in person until reviewed by the referee association.

 

The referees are not employees of the Maryland Sports Arena.

  

We contract with the Baltimore Independent Group to officiate over 2,000 games played at our facility yearly.

 

If there's an issue, we will forward your complaint to the association and they will investigate it and follow up with you in person, by phone or by email.

 

Ref fees are $22 a game for a two man system and $15 a game for a one man system.

  

If you only have one ref, even though two were scheduled, you pay that official $15. (Youth league only)

 

All weeknight leagues are 2 man systems. All adult leagues are one man systems with $20 paid by each team.
If you have not paid your deposit, please bring go online here http://marylandsportsarena.com/balancepayment.htm and pay $350. Remaining balance is due by first gamer.

 

Credit cards are also accepted at the concession stand.

 

You can leave your balance along with your collected liability waivers at the concession stand first game.
If you or your player arrives late, please notify the concession stand.

 

You will be allowed to enter the field at the next dead ball situation.

 

Do not enter through the emergency side door in the player's box.

  

Outside the door connects to a drainage ditch and it not safe.

  

If it's raining, your shoes will be soaked.

 

If it's cold or icy, you or your player may slip and fall.

 

Also, do not use the employee's only door next to the field.

 

As the sign says, employees only.

 

This area is used for storage and is not a pathway to the field

.

Please keep your soccer balls bagged until entering the field.

  

Besides equipment being broken, there are usually elderly people in the stands watching.

  

Several times people have been hit, and a few times hurt, from players playing with the ball off the field.
Parking is allowed on our lot and in the lot behind the RED BRICK BUILDING.

 

DO NOT PARK IN FRONT OF THE RED BRICK BUILDING NEXT TO OUR PIT BEEF STAND.

 

YOUR CAR WILL BE TOWED 24/7!

 

We have permission to park in the rear of the building ONLY

!

No commercially prepared food or drink (

i.e

Fast Food products) may be brought into the facility.

 

You can bring in sports drinks, water,

food

from home etc.

 

By commercial, we mean McDonalds, Burger King

etc

.

  

Our pit beef stand is leased to a fellow lifelong soccer player. You may bring food purchased at the pit beef stand into the facility.
It is winter, so expect to play when there's inclement weather.

 

We will cancel for a major snowstorm.

 

All coaches will be emailed regarding cancellations.

 

Weather announcements are also on our webpage at http://marylandsportsarena.com and our voice mail will have a message at 410.538.7300.

 

We do not follow school cancellations for Harford County Schools or Government.

We are offering several tournaments this year.

 

Our holiday tournament information during Christmas break is now online here http://marylandsportsarena.com/holiday2020.htm
All games are streamed live through http://livebarn.com .

 

Live Barn offers a 10 percent discount code to MSA patron.

 

Please use MSA1-2018 when subscribing.
MSA's 30th Annual Valentines Tournament will be held on Valentine's weekend

 

Info will be online shortly.
If you're looking for additional training for your players, the Maryland Sports Arena offers German Soccer School for ages 4 thru 12.

 

Ages 4

,5,6

are on Mondays, 7,8,9 on Tuesdays and 10,11,12 are on Wednesdays.

 

This is a FUN learning program for players of all skill levels.

 

I coach the players along with former German professional soccer play Dr. Gunther

Glockner

. Class is 4:30 to 5:30 for 6 weeks.

 

Each class ends with fun no pressure scrimmage.

 

See our webpage to register.
Former Baltimore Blast Championship coach and player, Bobby

McAvan

, offers individual training lessons for players in his studio in the rear of the facility.

 

For additional info, please visit http://marylandsportsarena.com/indivtraining.htm
I have room on Thursdays evenings for team training from 4:30 to 5:30.

 

6 to 8 week sessions.
FUNDRAISER - Dasher board advertising is available.

 

Your team receives 50 percent of everything you sell towards league and tournament fees. MSA hosts 2,000 games per year with over 2,000 players at our facility.

 

Email me for info.
I have practice time available Thursday evening Nov 19th (only!) and on Saturday Nov 21st and Sunday 22nd only.

 

I will have updated rules and

Covid

procedures in the next email.
Please email me or call me with any questions.  Good luck to your teams and thanks for playing at the Maryland Sports Arena!
Ron
Ron Szczybor
President
Web: marylandsportsarena.com
Email: info@marylandsportsarena.com
Facebook: https://www.facebook.com/marylandsportsarena
Phone: (410) 538-7300
<![if !vml]>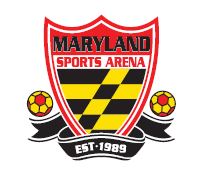 <![endif]>