Thank you to the coaches, parents and players who have played and participated in our programs.
The Maryland Sports Arena is now accepting team registrations for our 30th season of indoor soccer.† We are Marylandís oldest privately owned indoor soccer facility and since our inception, 29 years ago, over 58,000 indoor soccer games have been played at our arena.†
We specialize in our passionÖSoccer!
Our indoor soccer game is structured to insure maximum participation, maximum touches on the ball, maximum playing time, maximum player safety and most importantly.....maximum FUN!†† Our goal is to offer competitive based leagues in all age groups focusing on good, clean competition.
When you contact the Maryland Sports Arena, you deal with hands on owners who are high level soccer players.
We answer your phone calls.† We answer your emails.† We deal with any issues.† We are here to promote soccer and have done so since our inception.† Weíll be glad to discuss your options and steer you to the correct division based on your level of play.†
We will place your team in leagues based on your skill level.
For youth teams, we offer 2 sessions of play.† First session will begin in mid to late November and second session will begin late January or early February (depending on the league, holidays, and first session weather cancellations).† Both sessions will have approximately 170 teams registered to play.†
All games are streamed LIVE!
†
The Maryland Sports Arena was selected by Live Barn to be itís first indoor soccer facility for the streaming of indoor soccer games.† (Live Barn has over 1,000 ice hockey facilities streaming live.)† You can watch yours or your childís game online at http://livebarn.com †(Our promo discount code is msa1-2018) There is a small fee similar to netflix with no long term commitments and cancellation at any time!† Analyze games, player skills or just sit back and enjoy the game on demand.† Itís also a great way to watch a game live if youíre unable to attend.† We are the only facility to offer livebarn in this area!
We do not mandate teams play both sessions!
However, youth teams that choose to play two sessions do receive a discount on their 2nd session registration fee.† League opponents often change for session two and leagues are adjusted based on records.†† Please note, if you are playing in tournaments, either session 1 or session 2, let us know prior to registering.†† We will NOT schedule you on your tournament days.†† Normally there over 100 schedule requests we accommodate during both session 1 and session 2.† Your request must be given prior to schedules being online.† Once schedules are online, they cannot be changed.†† All leagues are projected to receive at least 8 games.† We do offer discounts based on the amount of teams playing from your organization
Our adult divisions play year round.† We offer menís, menís over 30, coed, over 30 coed and womanís divisions.† For menís info please visit http://marylandsportsarena.com/mens.htm and for women and coed info please visit http://marylandsportsarena.com/coed.htm .†
We didnít forget the boards and tempered glass.
We are Marylandís oldest total indoor soccer facility.† We feature this areaís top indoor field (with professional rubber infill turf), completely enclosed with dasher boards and tempered glass (8 feet high, clear to the floor on the side and 12 feet high behind the goals.)†† Our field measures approximately 160 feet by 90 feet.† Our ceilings are open and have a peak height of 40 feet.† Spectators have an unobstructed view of the game through clean, unscratched tempered glass.† We have LED lighting which provides an outdoor ďsunny dayĒ light.† The greater brightness improves the game for both players and spectators.† We are the only facility in this area with this type of lighting. Our heating system consists of both radiant heating over the spectator area as well as large heat blowing units to keep spectators warm during the winter.†
We offer the professional version of indoor soccer.
Our indoor play is quicker (than non boarded fields and futsal) and offers substantially more touches on the ball to players.†† Enclosed fields are an advantage, not a disadvantage to players. Players receive substantially more playing time due to the ball remaining in bounds.† We play with regulation soccer balls, not weighted balls that are a negative influence for players.†
Hereís what the Baltimore Sun reported about us!
Thanks for taking the time to read about our facility.† For more about our soccer philosophy and business, please view this recent Baltimore Sun article http://www.baltimoresun.com/news/maryland/harford/fallston-joppa/ph-ag-md-sports-arena-25th-0116-20150115-story.html
If you have any questions or an interest in our leagues, please email us or call us at 410.538.7300.††
Thank you for visiting our website and your support of soccer!
Ron Szczybor
President
Web: marylandsportsarena.com
Email: info@marylandsportsarena.com
Facebook: marylandsportsarena facebook
Phone: (410) 538-7300
<![if !vml]>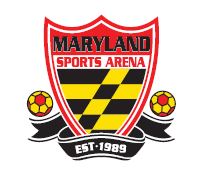 <![endif]>